Tuxis Corporate Cloud
De TCC (Tuxis Corporate Cloud) is een complete platform for the virtualization of your data centres.
The Tuxis Corporate Cloud (TCC) is the optimum solution for your private cloud and virtual data centre. In the event of a failure, the TCC remains fully operational because your data is saved in real time in three data centres. The continuity of your cloud environment is therefore guaranteed. Tuxis takes care of maintenance and monitoring 24×7.
A TCC also uses 30% less hardware and up to 50% less energy than regular private cloud solutions.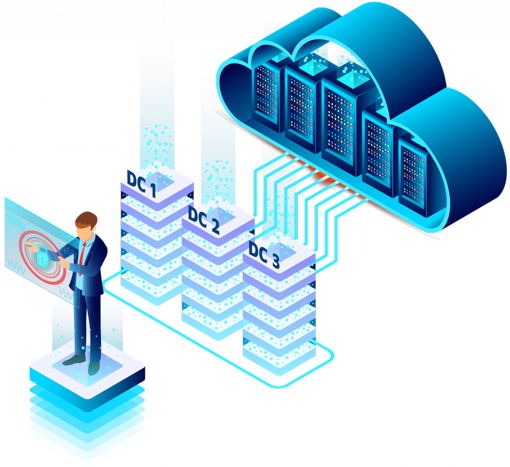 Benefits of the Tuxis Corporate Cloud

Carefree
With the TCC, you don't need to worry about your cloud infrastructure. Proactive monitoring and maintenance ensure a reliable environment.

Data stays in the Netherlands
Your data is saved in Dutch-owned data centres in the Netherlands.

Scalable
Is your demand for computing or storage capacity changing? The TCC scales up or down without downtime.

Reliable
Since the TCC saves data in real time in three data centres, it provides failover capabilities to guarantee your business continuity.

Fixed monthly costs
Straightforward budgeting through the elimination of any surprises on your invoice.

Constant performance
The TCC delivers top performance in terms of computing power and storage. Even during maintenance , there is negligible loss of performance.

Freedom
You are free to design your cloud infrastructure exactly as you like.

Dedicated and private
As you do not share the TCC infrastructure with anyone else, your privacy is fully guaranteed.
See how the TCC makes everything simpler and scalable:
Would you like further information without obligation?
Please email us at: info@tuxis.nl or call +31(0)318-200-208. We will be glad to tell you more about the TCC as a cloud infrastructure for your organisation or product.


Reliable


Independent

Appropriate
services


Short-term contracts