Tuxis Corporate Cloud Edge
High-end cloud infrastructure where you need it.
The TCC Edge is your own 24×7 fully managed virtual data centre. It offers the same functionalities as the Tuxis Corporate Cloud (TCC), but in a data centre of your choice. You keep control of your data whilst benefiting from the flexibility of a public cloud, exactly where you need it. The storage capacity is limitlessly scalable and can be expanded on the fly.
A TCC also uses 30% less hardware and up to 50% less energy than regular private cloud solutions.
Where do you need capacity?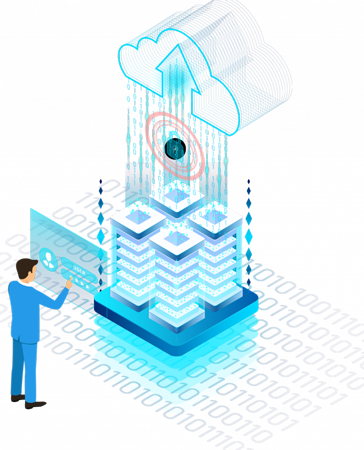 Benefits of Tuxis Corporate Cloud Edge

Carefree
Proactive monitoring and maintenance ensure a reliable environment that you simply needn't worry about

At your own location
TCC Edge is located in the data centre or wherever the capacity is needed

Scalable
Is your demand for computing or storage capacity changing? The TCC scales up or down without downtime.

Flexible
A TCC has no limits when it comes to scaling storage. There is no need to decide beforehand how much you'll need.

Constant performance
The TCC delivers top performance in terms of computing power and storage. Even during maintenance , there is negligible loss of performance.


Privacy guarantee
As you do not share the TCC infrastructure with anyone else, your privacy is fully guaranteed.

Freedom
You are free to design your cloud infrastructure as you like.

Fixed monthly costs
Straightforward budgeting through the elimination of any surprises on your invoice.
Where do you need capacity?
Ask for further details on the TCC Edge without obligation
Would you like to know what else Tuxis can do for you? Please call us on: +31 (0)318-200208 or email us at: info@tuxis.nl.


Reliable


Independent

Appropriate
services


Short-term contracts